Available Work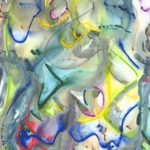 String Theory Series
The String Theory Series was created using tubes of watercolour applied directly to water soaked paper. These paintings can only be made outside on the hottest days of summer.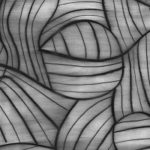 Emanation Series
These works are part of an ongoing 10-year series of over 100 ranging in size from 4 x 1 m to 60x60 cm. In contrast to most of Neville's work, the process of creating these charcoals is completely dry. Neville composes them by contrasting one shape against another.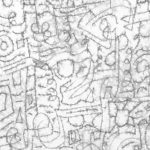 Autonomy Series
In this series, Neville uses hair-thin black pen on wetted paper to achieve a partial dissolution of the lines into the white background. It is a precarious process to control the bleeding of the ink.
"I just go and keep the pen moving. The game is to never let the pen leave the page."
– Vaughn Neville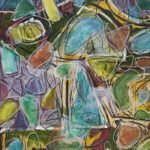 Symbiosis Series
These paintings are on rag paper which Neville inherited from renowned Canadian painter Jack Shadbolt, who was a good friend and mentor. This series developed over a period of a few years; it took going back to work on them several times until Neville felt they were complete.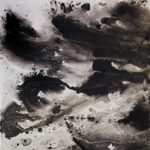 Tonescape Series
Neville created the works in this series outdoors. Working only during the intense heat of July and August, he would stand over a large sheet of paper on the ground—a garden hose and acrylic paint in hand. Moving quickly around the painting, he had to balance the evaporation of the water and dispersion of the paint to create each composition. These works were extremely physically challenging, as he had to move quickly in response to the demands of the medium.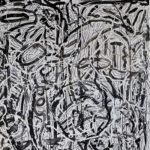 Continuo Alba Series
In this series, a web of white lines – some poured and some brushed – float atop layers of contrasting forms. These large scale works fill the visual field with the energy of continuous movement.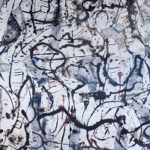 Razor Recast Series
The base layers for these paintings are cut up pieces of Neville's paintings. He subsequently paints over them to create these large works of great vitality.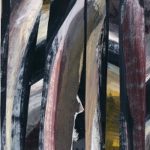 Ontosphere Series
Each work in this series uses various pieces of Neville's previous paintings. The resulting works range from over 6 m wide to the smaller collages presented here into which the final remnant pieces are placed.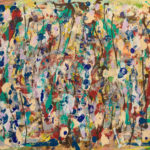 Flora Aurum Series
The works in this series will reward the patient viewer. Each painting is a wildly layered profusion of colours bursting up from a shimmering gold background.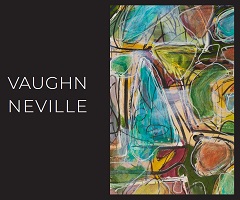 Catalogue
Catalogue & pricelist for viewing or download.